Product Description
Gasoline economy – electronic ignition ease!
This engine is not a toy. It adds great and efficient power to your rc airplane.Thanks to updated features that boost overall efficiency and performance, along with the redesigned muffler and lighter piston, DLE has updated the circuitry and software within the electronic ignition unit for better idle and improved transitions. Best of all, the EI unit is now compatible with 4.8-8.4V ignition batteries!
Two-petal reed valve rear induction with custom DLE carburetor.
Efficient, lightweight design with sealed crankshaft bearings.
Electronic ignition unit with newly designed circuitry and software provides better idle and improved transitions. Ideal for use with 4.8-8.4V ignition batteries.
NGK CM6 spark plug.
Rear exhaust with newly designed muffler features two outlet stingers that allow the engine to produce more power.|
Redesigned, lighter piston for faster acceleration, better compression and lower vibration.
Lightweight aluminum alloy crankcase.
Include
DLE-20cc Rear Exhaust Gasoline Engine with Electronic Ignition
Muffler, Gasket and Bolts
Muffler Extension Tubes with Clamps x 2
4x20mm Muffler Screws x 2
Spark Plug
DL Engines English Instructions
Requirement
Gasoline with at least 87 octane rating
2-cycle oil, mix ratio for this engine is 30 parts gas to one part oil and must be followed exactly for warranty consideration and optimum performance
4.8 – 8.4V battery for ignition, separate receiver style pack can be used
**NOTE, 1st version ignition is marked A-01 on the label and requires a regulator if using 2S LiPoLiFe battery If ignition module is the A-02 model it has a built-in voltage regulator. Model A-02 designation is located above the word Ignition on top of the case**
Specification
Output Power: 2.5 HP at 9,000RPM
Idle Speed: 1,750RPM
Static Thrust: 13.14lbs (6.3kg) 328ft (100m) altitude
12.6lbs (5.6kg) 5,900ft (1800m) altitude
Displacement: 1.22 cu in (20cc)
Bore and Stroke: 1.26 x .98 (32 x 25mm)
Compression Ratio: 10.5:1
Weight, Engine Only: 1.7lbs (660g)
Exhaust: 2.8oz (80g)
Ignition: 4.6oz (130g)
Fuel Mixture: 30:1
Fuel Octane Level: 93
Propeller Range: 14×10, 15×8, 16×6, 17×6
Ignition Battery: 4.8 – 8.4V
Replacement Spark Plug: NGK CM6
Carburetor Settings:
Low Speed Needle: 1.5 turns out, adjust until engine idles smooth
and transitions to a high speed without dying or flooding
High Speed Needle: 1.5 turns out, adjust to peak RPM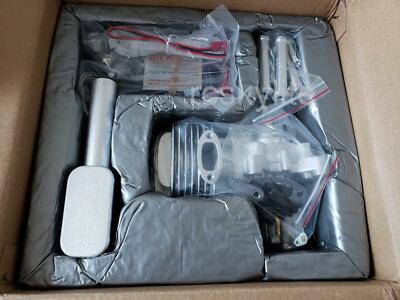 Frequently asked questions
Can I use synthetic lubricant oil instead of mineral oil?
It is strongly recommended used synthetic lubricant oil, especially full-Synthetic
Oil, cause it's not only can improve the engine performance but also can prevent
carbon accumulation in piston.
Does the DLE engines has been started and adjusted before delivery?
All DLE engines key components has been tested before being delivered from the factory,
such as ignition, carburetor and etc. And the engine hasn't been started.
There are Three wires in ignition,all wires are female connectors. There are Two
black plugs and One red plug, if the red plug is designed for battery, then what's
the purpose of other Two plugs?
Each DLE engine's ignition has three wires. The red plug connects to the battery.
The plug which has black oil on surface connect to sensor. And the other one connects
to a rated tachometer. The wire which contact with tachometer can't contact to sensor.
Some carburators has two tubes, which one is contact to fuel tank?
The black nipple is fuel inlet and the brass nozzle is the air inlet. They can make the air pressure which in carburetor keep balance.
What's the ignition voltage? Can I use lithium battery?
The ignition voltage : 4.8-8.4 V , Max voltage : 9 V
Does DLE provide after-sales warranty service? How long is the warranty?
All the DLE engines sold out enjoy one year warranty .if failure to running when
first use, we will replace a new one for customer. If the engine can't start for
reasons of quality problem, we will provide components to dealers and dealers
will repair it.